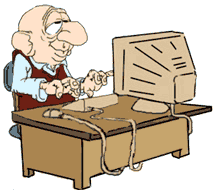 This decade's online growth is invalidating the notion of a "digital divide," or "gray gap"—tech-savvy kids on one side and geezers asking, "How does this thing work?" on the other. According to the Pew Internet & American Life Project, 92 percent of Americans ages 18 to 29 use the Internet; 85 percent of those 30 to 49; 72 percent of those 50 to 64; and 37 percent of those 65-plus.
It's curiosity, not suspicion, that entices many older users to learn about the past on the Internet. Many are looking way back: 47.8 percent of the visitors to the genealogy site
Ancestry.com
are 55-plus (according to Hitwise), while
Legacy.com
("your nationwide resource for obituaries and guest books") counts 64 percent of its visitors in that age group. Some are more interested in the recent past. "The 55-plus demo is big in terms of getting back in touch," says Tancer.
Classmates.com
gets 34.2 percent of its traffic from people in that demographic, and
Reunion.com
gets 27.9 percent (the biggest age group for both sites).